The Best Quality
Well Servicing Equipment
Precision Pump & Compressor started over 45 years ago with one goal in mind, and that was and still is to build the finest quality well servicing equipment in the industry. Precision Pump believes that safety and quality go hand in hand. Precision Pump achieves this through innovative engineering, facilitating the best welders/fabricators, on sight machining, and precision CNC machining equipment to ensure the highest quality parts and energy-saving equipment.
Committed to customer satisfaction, Precision Pump & Compressor pride itself on every piece of equipment that leaves our yard. We service all brands and make equipment both on sight or location, with crews available day or night to get you up and to run. Chad Everett and crew are committed to total customer satisfaction and believe this is achieved through education and technology and proper equipment sequence and procedures.
Eight Decades of Experience
Precision Pump & Compressor designs and manufactures well servicing equipment for both the United States and the International marketplace. We specialize in packaged equipment, including trailer-mounted complete foam air units, air drilling packages, power swivels, reverse units, and lay-down automated pipe handlers. Precision Pump & Compressor's equipment is backed by over 80 years of combined experience, and we believe that our success derives from the following attributes: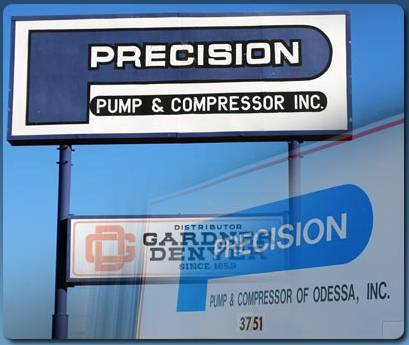 Best Precision Pumping
in the Industry
This translates to cost savings for our customers and less downtime. With extensive experience and the most modern equipment in the industry, Precision Pump & Compressor is a leader for air drilling and under-balanced drilling solutions in the United States.
With safety being one of our number one concerns, we have spent a good deal of time and money with R & D trial and error to come out with our newly developed PLU (Precision Lay-down Unit). The precision pipe handling system is second to none, and our customers have been enjoying the fruits of our labor through less downtime, fewer injuries, and higher production. Formed in 1977, Precision Pump & Compressor is a closely held, privately owned corporation.